Though Albert Midlane (1825-1909) wrote hundreds of hymns, he refused royalties of any kind for his compositions, even when they appeared in multiple hymn books. Among his better known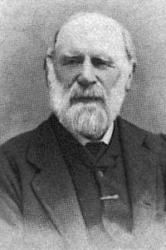 compositions are "Revive Thy work O Lord", "There's a Friend for Little Children", "Passing Onward, Quickly Passing" and "When the Saviour said 'Tis Finished".
One of his most beautiful compositions seems hard to find on the internet, so we reproduce it here. Enjoy!
Lord when I think upon the love
Which Thou to me hast shown,
To die upon the cross, that Thou
Mayest claim me for Thine own.
I cannot tell why Thou didst show
Such love to one like me,
Save that it is, that I might know
I owe it all to Thee.
There is no goodness in myself,
To win such precious love;
I loved Thee not – Thou lovedst me,
And called me from above:
I heard Thy voice, it won my heart,
And bade my doubtings flee.
It gave me rest and peace – O yes,
I owe it all to Thee.
And still upheld by power divine,
Urge my way along,
In haste to reach the promised rest,
The bright, glad home of song,
And then when glory on me bursts,
And I Thy glory see,
Again I'll raise the happy song,
"I owe it all to Thee".