Albert Midlane (1825-1909) wrote hundreds of hymns. Among his better known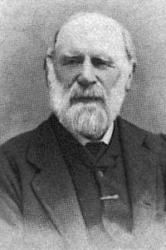 compositions are "Revive Thy work O Lord", "There's a Friend for Little Children", "Passing Onward, Quickly Passing" and "When the Saviour said 'Tis Finished".
Two of his hymns, below, are particularly rich in their soteriological content. Hymns like these are simply not being written today!
Enjoy!
Wondrous Grace
O wondrous grace that found a plan, to rescue guilty fallen man,
And ease him of his load.
And found a ransom in the Son, to save the sinner, lost undone,
And meet the claims of God.
O wondrous grace, soul saving power! The Surety met the darkest hour,
When justice gave the blow;
He bore the curse; He bore it all; nor let one murmuring accent fall,
Through all the scenes of woe.
O wondrous grace, there, there He made, an end of sin – the debt He paid,
To ransom and redeem;
Now God is free to save and bless, consistent with His righteousness,
The soul which looks to Him.
O wondrous grace, still soaring high! To save – ah more – to glory!
And give the soul a place.
In Him who bore the curse, the load – the risen, blesséd Saviour God,
O wondrous, wondrous grace!
And O what folly to refuse, such wondrous grace, such blessed news,
So pure, unasked-for love!
Accept it! It is freely given, this wondrous, perfect grace of heaven,
And all its fulness prove.
The Perfect Righteousness of God
The perfect righteousness of God
Is witnessed in the Saviour's blood;
'Tis the cross of Christ we trace
His righteousness, yet wondrous grace.
God could not pass the sinner by;
Justice demands that he should die;
But in the cross of Christ we see
How God can save, yet righteous be.
The judgment fell on Jesus' head;
'Twas in His blood sin's debt was paid;
Stern justice can demand no more,
And mercy can dispense her store.
The sinner who believes is free,
Can say, "The Saviour died for me";
Can point to the atoning blood
And say, "This made my peace with God."